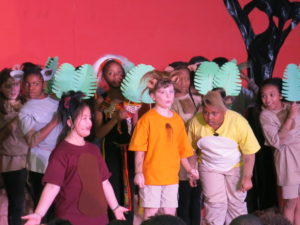 My job at Boston Children's Theatre is to manage the Disney Musicals in Schools program. In its first year there are four schools including the Condon. So not only do I get to work with this program professionally but I also get to volunteer as a parent since Brendan is in the show. And he is Little Simba.
The kids have worked since October and you could tell. They were fantastic. It was so great to see all the school performances but of course knowing the Condon kids, teachers and families as well as I do made it even more special. I was so proud that the program was able to be at the Condon and that Brendan's BCT friends were able to see him at his school and his school friends got to be a part of a show- something Brendan loves.
Funny enough Brendan also played Little Simba at 4th Church at the same time four years ago!
No matter how many stages Brendan has been on, or will be on, there was something special about this show with his friends in front of the whole school community.
Bonus- a video!