Sometimes things have a way of working out that makes disappointing into an incredible opportunity. This is one such story. Canceling our Amsterdam trip was certainly disappointing. But not long after I saw a casting notice for a local theater company looking for children for its production of Show Boat. Brendan auditioned on what would have been the day we left for Amsterdam. And got the part! And what an incredible opportunity it turned out to be.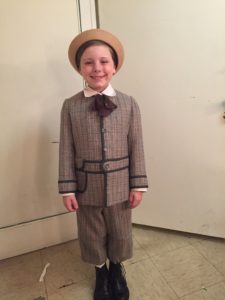 The show is a classic and Fiddlehead Theater Company produced it as such- 50 actors, 300 costumes, 60 wigs- set at the Shubert Theater with rehearsals at the Wang Center. There were three other kids in the show and they all became fast friends.
Bren also became fast friends with the other cast members, many from New York and some local. He enjoyed rehearsals even when it meant coming from a 4th Church show or missing the Pride Parade.
A few highlights included a cast member calling upon a few Hamilton friends to send a birthday message, a cast member finding the perfect wig for Brendan to add to his dress up box, the whole cast singing happy birthday to him, a cast member inviting him to be part of a social media campaign for a toy company and seeing a few family friends backstage in the crew.
The show was magnificent. It received wonderful reviews and Brendan was especially happy to see so many friends and family in the audience. He enjoyed the opening night party, the closing party and hanging out in an amazing theater. We helped him set up a few social media accounts to keep in touch with friends- and he's enjoyed doing that as well.
In one school year he performed in three professional shows. He amazes us with his dedication and drive and especially his passion for theater.