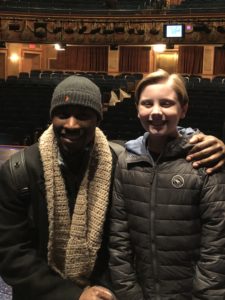 We decided to purposefully make this Christmas vacation low key and relaxing. With one exception – a trip to New York to see the new Broadway musical The Prom.
Brendan's friend Sheldon who was in ShowBoat with him (and was able to score a birthday message from a couple of Hamilton stars) is in the show. It is his Broadway debut.
We loved the show! It has a great message and great music. The dancing is pretty amazing too! After the show we got to congratulate Sheldon backstage. He was super kind to have a swag bag for Brendan too!
Our fingers are crossed that this show continues its success and does well at the Tony Awards this spring!
Christmas Eve
This was the first year both kids were too old to be part of the Christmas Pageant. However, continuing my favorite part of the pageant – the helpers who come back – they were both helpers. And Brendan sang again this year too. It was a great Mass with lots of enthusiasm from the kids involved. And also – the kids made the front page of the Globe (and the Globe's Instagram!).
Christmas Day
Another chill and easy holiday – with everyone living so close it made for a nice day. The kids enjoyed their gifts (a Nintendo Switch and games for Aidan, an American Girl doll and styling head for Brendan). Dinner was with everyone at our home. It was a much easier night without boarding a plane like last year!