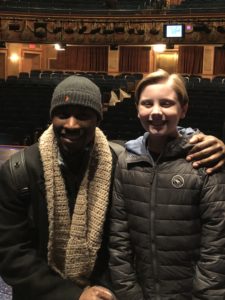 We decided to purposefully make this Christmas vacation low key and relaxing. With one exception – a trip to New York to see the new Broadway musical The Prom.
Brendan's friend Sheldon who was in ShowBoat with him (and was able to score a birthday message from a couple of Hamilton stars) is in the show. It is his Broadway debut.
We loved the show! It has a great message and great music. The dancing is pretty amazing too! After the show we got to congratulate Sheldon backstage. He was super kind to have a swag bag for Brendan too!
Our fingers are crossed that this show continues its success and does well at the Tony Awards this spring!