We have known our friend Brendan since before Aidan was born.  He was part of the Subaru group Chris was involved with and swapped his engine in our garage one summer.  He grew up in Southie too and had many of the same favorite places as us but it took cars to introduce us. He moved on from cars and into photography and now shoots weddings in addition to his "real job."  He has taken pictures of our kids since our Brendan was a year old.
Last year when he took our Christmas card pictures we met Renuka and heard about their whirlwind romance, engagement and plans to marry in India where she was from. We jokingly said what an incredible adventure. A year later, planning this year's Christmas card pictures, we talked more about the trip. Pretty quickly we decided we were up for the adventure. With the kids.
When would we ever have this kind of experience again? Not to mention the excitement of seeing a friend get married (I'm such a sucker for weddings). We would go for almost two weeks and travel to different cities with Renu's family. Aidan has always wanted to see the Taj Mahal. So we said yes. And almost immediately the adventure began.
We went shopping for kurtas for the boys and a sari for me. We had immunizations and hours of visa paperwork. There were conversations about food, customs and money.  The Monday after Thanksgiving we boarded our flight.
It took about 16 hours including a brief layover in Zurich to arrive in Delhi. The time difference and travel made it Wednesday morning. We slept a bit and then were off for the first day of our trip. The first stop was a mall. In India. And we had McDonald's ice cream!  The next day was the Sangeet ceremony and Brendan and I got henna on our hands. There was dancing and music and amazing colors. It was all so beautiful.
But that did not prepare us for the wedding. There are no words. I went to the beauty parlor to get ready. They helped with makeup, hair, jewelry and getting dressed. The boys got ready and then we were off. The groom rides in a parade like procession on a horse with music and fireworks and bright lights. Both boys got to be part of the procession riding with Brendan. It was amazing!  We were all dancing and celebrating. This is called the Barat, and no amount of explaining could have prepared us!!  Weddings are a little different. The reception and party are first, and then the ceremony takes place. More food! More dancing! More colors!  It was amazing!  The ceremony took place at midnight in Hindi. It was beautiful to watch. Then colorful lanterns were set off with wishes. We got home 3am! I think Chris danced more that night than in the over twenty years I've known him!
After sleeping in we went to Kingdom of Dreams in Gurgon, the city we were in. It had food from lots of the states of India. And most importantly- a playground and a camel ride! The next day we were off for a daylong tour of Old and New Delhi. We saw so many sites. The kids made connections to the lessons they learned about Gandhi and saw lots of cool places. It was hard for us to see the poverty that exists in India. It was very eye opening.
The second week of the trip involved touring three cities. We had a charter bus.  Our group included the Americans as well as Renu's parents, sister and nephews. The boys really enjoyed having other kids. Aidan spend lots if time talking to Ranu who was 9.
The first city was Agra and the Taj Mahal. We went at sunset. It was spectacular. We went back the next morning to the Moon Garden to take pictures and see sunrise over the Taj. Amazing. Stunning. We visited the Marble Palace to see how the marble is made just liked in the 1500's. We bought a table, had it engraved and sent home as a special reminder of out trip.
Jaipur was the next city- the pink city. We took elephants to the fort. It was beautiful!!  The architecture and time spent on carvings is just mind-boggling. We saw where the first measurements were done by Indians measuring time with sundials that are so precise and still accurate. Aidan was particularly interested in this!
It was a long trip to Udipur but worth the wait. It is a city on the water. We visited a Jain temple that we were in awe of. 1444 columns and no two were the same. The carvings were beautiful!  We took a boat tour as well. Gorgeous.
All our hotels were so cool, the people love children and were so welcoming to our kids and us. Renuka's family was so hospitable and Brendan and Renuka clearly had spent a great deal off time planning the trip. It was the adventure of a lifetime.   Everything was perfect, we could not have imagined a better time.
Our kids traveled better than we could have ever expected and took in India for all it was. When we returned (24 hours of flying that included a snow delay in Germany), both kids gave presentations for their classmates. Aidan had also kept a journal each day. Their stories were great. It was hard to choose highlights- seeing monkeys, riding animals, meeting people, new food, traditions, customs.  It was all so much!  But both talked most about the wedding. Which for Chris and me was the highlight as well.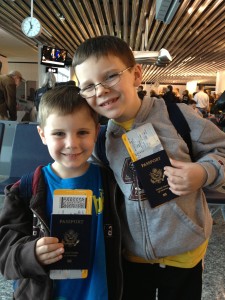 Brendan's pictures from our trip are incredible!  They can be found here.