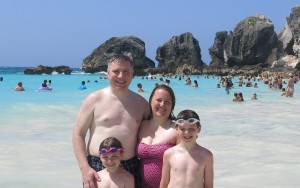 Last year the kids loved our family vacation to London. More than once they mentioned how they wished that the next vacation we could invite more of our family and friends. So this year we let everyone know what our plan was- to take a cruise to Bermuda. Our group ended up including 19 friends and family.
The ship was amazing- we had a "penthouse" with lots of space for all of us (and a balcony so that Bren could sing). There were lots of activities and delicious food too.
The highlight was Bermuda. We loved the pink sand and clear water. We also loved out tour of the Crystal Caves.
It was a fun and relaxing vacation – different from the adventure of last summer. But what made it the most fun was enjoying it with friends and family.