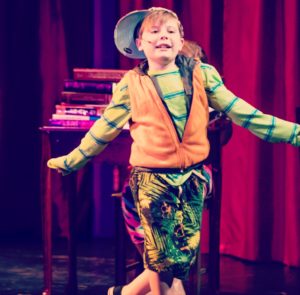 It's weird to think back to almost 4 year old Brendan insisting he go to theater camp, but here we are seven summers later and it is the highlight every year of his summer. This year was no exception.
The events of the past spring with the fall out of Cuckoos Nest, made it uncertain at times that Summer Studios would even happen. Something never completely shared with Brendan. So to sit in the audience and see the opening number, just like sitting in the theater on the opening day of Studio 4, was bit overwhelming. It all came together, and my reasons (beyond it was the right thing to do) for fighting so hard, were clearly focused on Brendan doing what he loved with the people he loves.
He was Grandmaster Chad in Legally Blonde. He rapped (video!). I literally had tears streaming down my cheeks watching him. The show was fantastic. He made lots of great new friends and saw old friends.
My friend Michael also got to come for a Master Class- appropriate the day after the Wicked cast opened Legally Blonde. It's been fun to have worlds collide but also be able to see Ben in his element.
Most important of all- he could be himself- costumes, make up, wigs and show tunes. Couldn't ask for anything better.